28th February 2022
Indoor vs Outdoor Cycling
Aimee Radcliffe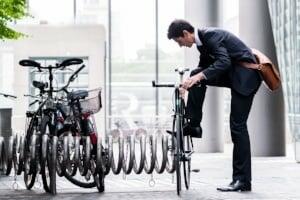 According to figures produced by Secretary for Transport, Grant Shapps, UK cycling increased by 200% during the first Covid-19 lockdown. However, this cycling surge hasn't just brought new cyclists out onto the road with many people opting to cycle from the comfort of their own home with the help of a stationary bike.
Any exercise is better than nothing, and we aren't here to gatekeep, but here at Bike2work Scheme we've definitely found ourselves wondering:
Can a few spin classes a week really replace outdoor cycling?
Fitness
Although any cycling at all will benefit you in the long run, it's important to remember that an indoor bike is going to provide a completely different workout that outdoor cycling. Due to their overall design, requiring a "flywheel" to provide resistance, indoor bikes require less effort to keep moving once you start and primarily target the hamstrings and require. In contrast, a normal bike forces you to pedal against wind resistance and friction from the road engaging your hip flexors and quadriceps. Overall, you're likely to burn more calories on a normal bike than on a stationary bike at home or in the gym.
Boredom
With the advent of services like Peloton or Zwift, indoor cycling has definitely levelled up over the last few years. But why spend extra money trying to improve the experience when you could just go outside. No screen can bring the sights, sounds and scents of a countryside ride into your living room. Furthermore, cycling outdoors is much better for mental health due to the sun and fresh air encouraging vitamin D uptake.
Environment
Sure, being able to exercise at any time no matter the weather is a major benefit to indoor cycling. However, every time you decide to leave your car or pass up the bus in favour of a bike, you're helping the environment. If you're one of those people driving to spin class each week it might be time to think about the negative effects of your fitness routine.
Time Saver
Whilst it might not actually save time on your commute to work (Depending on traffic, distance and fitness levels.), getting on your bike every day is a great reason to ditch that gym membership. By combing exercise and transportation you're effectively killing two birds with one stone and you'll find more time in the day to spend on things you actually enjoy.
Are indoor bikes worth it?
Absolutely! If you're at a lower fitness level, a stationary bike can help you improve your cardiovascular fitness and increase your confidence without the extra pressures of outdoor cycling (Traffic management, poor weather conditions etc.).
However, do we think outdoor cycling is better for you than indoor?
Again, absolutely. If given the choice between a stationary bike (That, lets be honest, will probably end up awkwardly stuffed in the cupboard after a few months!) or a normal everyday bicycle, we'd pick the normal bike every time. And if you really can't decide, why not just by yourself a bike trainer for when you don't feel like braving the outdoors?
Have you made the plunge recently and purchased a bike (Stationary or otherwise)?
Let us know in the comments below!
Visit our FAQ for more information on the Bike 2 Work scheme and how your business can take advantage of the government's tax-free cycle scheme.